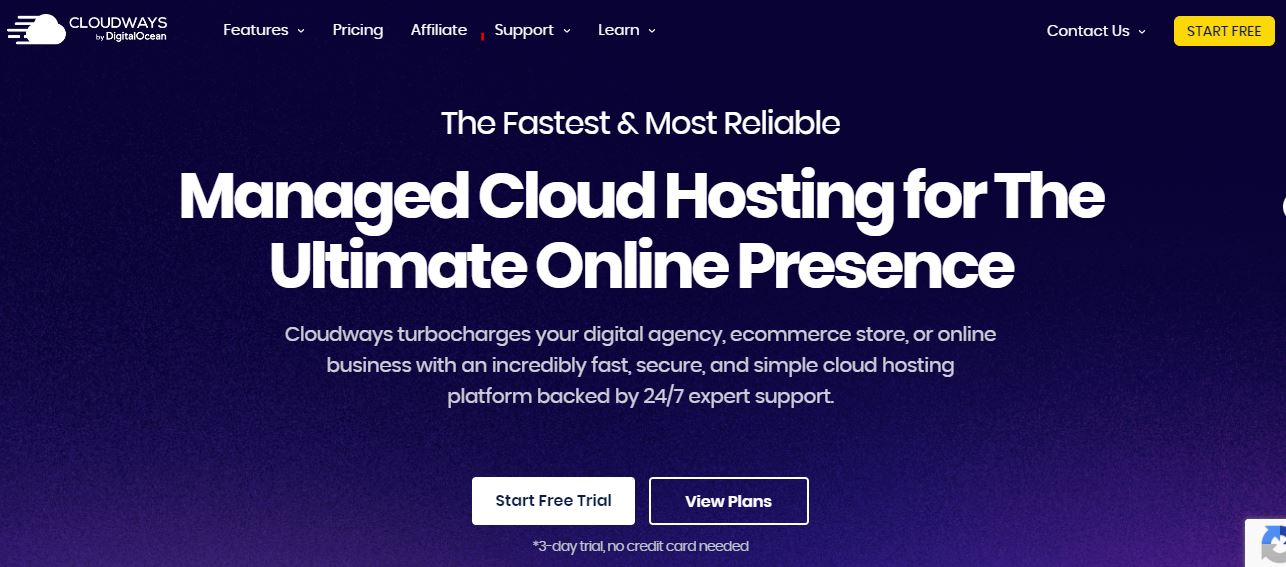 In This Cloudways Review: A trailblazer in cloud-based hosting, reshaping the landscape with unparalleled innovation and excellence.
Discover Cloudways' standout features in this comprehensive review, gaining insights into its competitive edge in the hosting arena.
Cloudways Review Unparalleled Onboarding
Cloudways kicks off the hosting experience with a user-friendly onboarding process that sets a new standard. Unlike its counterparts, Cloudways offers a three-day trial account without any upfront payment. The process is seamless, allowing users to effortlessly create an account or log in using Github, Google, or LinkedIn credentials.
Flexibility Redefined
The flexibility offered by Cloudways is a standout feature. Users can choose from an extensive list of content management systems (CMS), including Drupal, Joomla, Magento, and WordPress. Flexibility in server selection with infrastructure-as-a-service options from Amazon, DigitalOcean, Google, Linode, Stackpath, and Vultr sets Cloudways apart. Tailoring your website to specific needs has never been this easy.
Unleashing the Power of Cloudways: Effortless Website Building and Advanced Features
In web hosting's vibrant world, Cloudways excels with a unique approach to construction and management, redefining industry standards.
Dive into the seamless experience of building your online presence with Cloudways, where simplicity meets sophistication. To get started visit Cloudways
Rapid Deployment with WordPress on Cloudways
Opting for Cloudways hosting defies convention, yet building a site with remarkable simplicity marks a unique and straightforward journey. WordPress as my content management system (CMS) during testing, I witnessed the efficiency of Cloudways in action – a server created in just seven minutes.
Cloudways Review User-Friendly Interface and Customization
Logging in with my Cloudways credentials, the user interface greeted me with intuitive design and functionality. Navigating through the process of selecting a theme, tweaking the appearance of pages and posts, and seamlessly integrating images into the content was a hassle-free experience. Cloudways empowers users with a user-friendly platform that streamlines the website customization process.
Managed WordPress Flavor: Elevating Your Installation
Delve into the realm of managed WordPress hosting with Cloudways, where your installation receives the white-glove treatment. Automatic CMS updates, daily backups, and real-time site monitoring redefine the landscape of website management. Cloudways prioritizes WordPress-specific security, ensuring a robust shield against potential threats.
Efficiency Redefined: Cloning and Staging
Cloudways introduces game-changing features that amplify your website management capabilities. The one-click cloning option allows you to swiftly create duplicates of your applications and servers, providing unparalleled flexibility in scaling your online presence. Staging areas enable you to test website elements without exposing them to the live environment, a crucial asset for meticulous website development.
Application-Level Monitoring: Unveiling Insights
Cloudways empowers users with the ability to separately monitor applications hosted on a server, ushering in a new era of detailed insights. Application-level monitoring comprises two integral sections: analytics and logs.
Analytics: A Deep Dive into Traffic and Usage
In the Analytics review, Cloudways provides a comprehensive overview of crucial metrics. From traffic information and PHP requests to MySQL requests and disk usage, users gain valuable insights into the performance and utilization of their website. This data-driven approach enables informed decision-making for optimizing website functionality.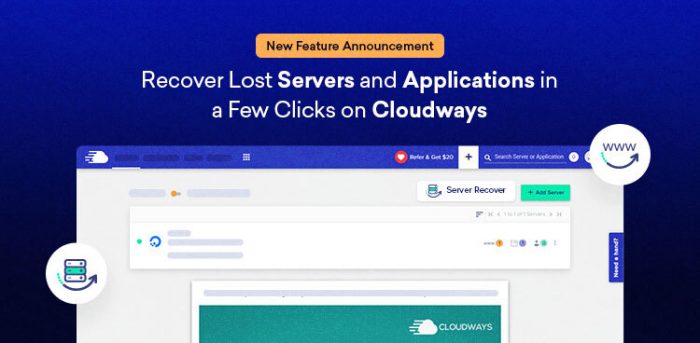 Logs: Unraveling Website Activity
The Logs section unveils the intricate details of your website's activity. Access logs and error logs become transparent, offering a clear perspective on the interactions and issues encountered by your site. Cloudways ensures transparency and accountability, empowering users to address challenges promptly and refine their online presence.
Elevate Your Website Management with Cloudways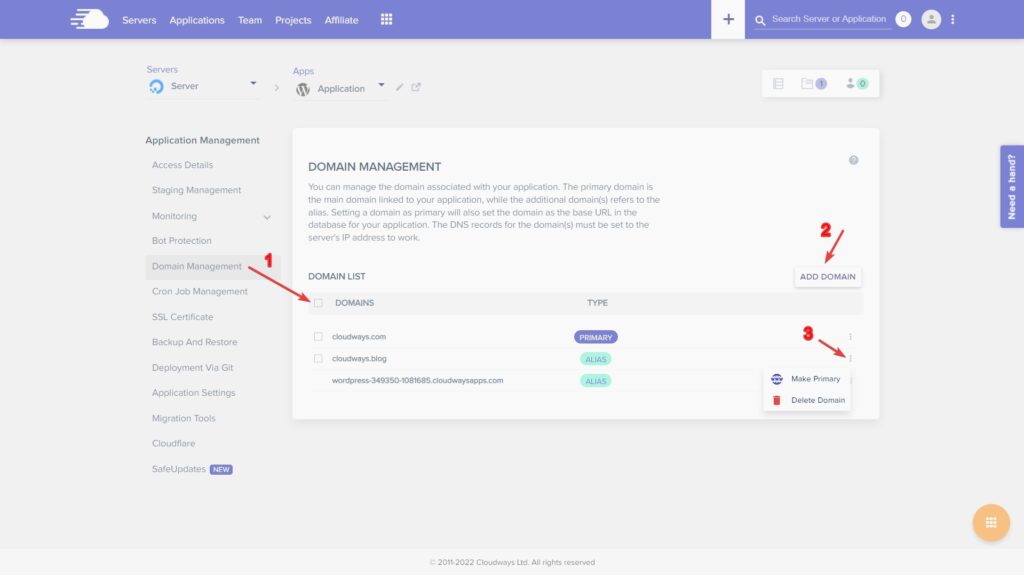 In the realm of web hosting, Cloudways stands out as a trailblazer, redefining the process of building and managing websites. From rapid deployment and user-friendly customization to advanced features like cloning and staging, Cloudways empowers users with a holistic toolkit for effective website management. Explore the unparalleled advantages of Cloudways and elevate your online presence to new heights.
Innovative Pay-as-You-Go Plans
Cloudways disrupts the traditional billing model with its pay-as-you-go plans. The transparent pricing structure ensures users only pay for the time they use, a refreshing departure from competitors billing for the entire month. With plans starting at just over $0.01 per hour, Cloudways provides a cost-effective solution for diverse budgetary requirements.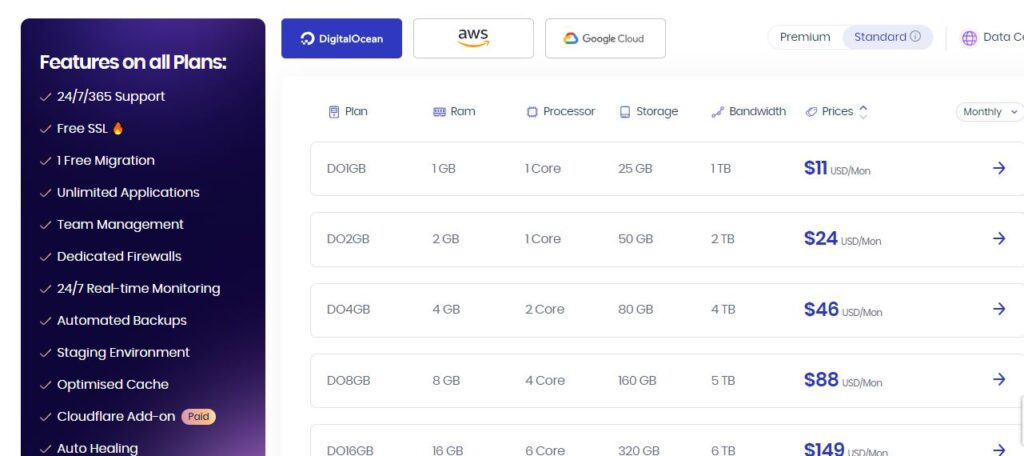 Robust Hosting Packages
Cloudways' cloud hosting plans cater to a range of needs, from $10 plans for smaller projects to high-end offerings rivalling powerful dedicated server plans. The transparent pricing and hourly billing options make Cloudways an attractive choice for businesses of all sizes.
In this Cloudways Review let's See the Effortless Website Building
Our Cloudways Review captures website building
Building a website on Cloudways is a breeze. Using WordPress as an example, Cloudways created a managed WordPress server in just seven minutes. The managed flavour ensures a hassle-free experience with automatic CMS updates, daily backups, and one-click cloning and staging areas for testing.
Empowering E-Commerce: Robust Capabilities and Unwavering Security
Within Cloudways' we review the app library, robust support is extended to renowned e-commerce platforms such as Magento and Prestashop, presenting users with a seamless journey in establishing and managing online stores. Prioritizing security as a paramount concern, Cloudways consistently implements updates and provides complimentary SSL certificates to fortify data protection, ensuring a secure environment for online businesses.
Experience the prowess of Cloudways in elevating your e-commerce endeavours. From versatile app support to unwavering security measures, Cloudways is your partner in crafting a successful online store. Learn more at Cloudways and embark on a journey towards secure and efficient e-commerce operations.
Dependable Uptime: A Cornerstone of Hosting Excellence
When it comes to hosting services, the reliability of website uptime becomes a critical element, directly influencing user experience and the continuity of business operations. The unavailability of your site can discourage clients or customers, potentially leading to missed opportunities. The uplifting news is that Cloudways excels in delivering outstanding uptime, guaranteeing your online presence remains consistently accessible.
To validate this assertion, I conducted meticulous testing using a website-monitoring tool to track the uptime of my Cloudways-hosted test site. The tool diligently pinged my website every 15 minutes, promptly notifying me via email if it encountered any issues lasting longer than one minute. This evaluation covered the most recent 30 days, offering a comprehensive overview of the performance of each site.
In the latest series of tests, Cloudways demonstrated itself as a paragon of stability. Remarkably, not once did the hosting service face downtime. This extraordinary reliability underscores Cloudways' dedication to providing a seamless and uninterrupted online experience for users.
For an in-depth understanding of our testing procedure, please consult our comprehensive guide on How We Evaluate Web Hosting Services. Place your trust in Cloudways for hosting that not only meets but exceeds expectations, ensuring your website remains operational, and poised to engage visitors and foster success.
Customer Support Excellence at Cloudways: Accessible 24/7 with a Few Caveats
Cloudways takes pride in providing 24/7 customer service, ensuring assistance is at your fingertips at any hour. However, there's a minor hurdle if you prefer engaging with a human representative. To initiate a phone or Skype call, a form must be filled out, adding a step to the process.
Alternatively, the web chat option offers immediate access to customer service representatives, eliminating the need for form submissions. During my interactions, I experienced prompt responses, with Cloudways representatives addressing my queries within seconds.
Noteworthy is the team's commendable knowledge, delivering accurate information on complex topics such as the distinctions between cloud and traditional hosting, as well as the intricacies of the company's payment structure. I also received a comprehensive primer on infrastructure-as-a-service.
It's worth noting that Cloudways' refund policy deviates from the standard 30-, 60-, or 90-day money-back guarantees prevalent among other web hosts. The structure is detailed enough that the customer service team directed me to a specific link for comprehensive information. While this detailed approach may seem overwhelming at first, it ensures transparency in the refund process, offering users a thorough understanding of the terms and conditions.
The Verdict: Outstanding
Cloudways emerges as an outstanding web hosting solution, offering flexible plans, rapid setup, top-notch customer support, and impeccable uptime. The absence of domain registration and the additional cost for email services may be considerations, but the overall package makes Cloudways a reliable choice for individuals and businesses alike.
In conclusion, give Cloudways a chance, and experience a hosting service that goes beyond the ordinary, providing the tools and support needed to establish and maintain a successful online presence.